In the current landscape of corporate India, the latest buzzword that has taken the industry by storm is Blockchain. The revolutionary technology packs all the arsenal to transform how the modern world operates. As per a report by Gartner, the business value of blockchain technology will reach $3 trillion by 2030
1
. Blockchain helps in increasing transparency, reducing operating costs, and improving efficiency. Additionally, the technology offers unparalleled security through cryptographic techniques. Beyond cryptocurrencies, blockchain finds applications across diverse industries, from supply chain management to healthcare and finance, promising to reshape traditional processes and unlock new possibilities for the digital age.
Looking at specific use-case, in Supply Chain management, blockchain can help companies proactively detect and mitigate supply chain risks before any severe impact occurs. Moreover, blockchain is used in the tokenization of assets where an issuer can create digital tokens on a distributed ledger, which represent either digital or physical assets. The technology ensures that once you buy tokens that represent an asset, no one else can erase it or change your ownership. Even the Government of India is exploring various ways to leverage blockchain in KYC and digital identification2.
Let us understand this further.
Congratulations!
You have successfully cast your vote
What is Blockchain?

At its core, blockchain is a decentralised and secure digital ledger that records transactions in a transparent and immutable manner. In its current form, Blockchain has changed the way we secure, verify, and transact digital assets and information. Given that the technology works on a decentralised network of participants, it creates an immutable and transparent digital ledger that records transactions in a tamper-resistant manner.
Why is it important to build blockchain expertise right now?

Given the rapid pace at which the blockchain is adopted by various industries across the globe, there's a growing need for professionals who understand the technology and help brands and companies leverage it to stay ahead of the curve. To tackle this specific challenge, IIIT Hyderabad Blockchain Center of Excellence and TalentSprint have curated a special course to empower those who want to not just make a career in blockchain and also pave the way forward. The course titled Advanced Certification Course in Blockchain and Distributed Ledger Technologies aims to help learners provide a hands-on learning experience about this disruptive technology.
Which aspects of blockchain are covered in the course?

In the 6-months of learning, one can expect to cover key topics and gain skills such as blockchain fundamentals and how to build Smart Contracts using Ethereum & Solidity. The course will also teach about building DApps (Decentralized Apps) using Hyperledger and learn about how the industry is using blockchain Tradeoffs across Multichain, Ripple, Corda, EOS & Cosmos. There are multiple Capstone Projects & Specific Projects that enable a learner to gain on-the-job knowledge about blockchain.
What do the experts at IIIT Hyderabad say about the course?

Dr Kannan Srinathan, Lead Faculty at IIIT Hyderabad, said, "Blockchain is a unique technology, which for the first time encompasses all the aspects of game theory, distributed computing as well as cryptography, confluence and coming together so that trust emerges. Currently, IIIT has decided to have executive education on blockade technologies."
Blockchain and Distributed Ledger Technologies

Sunil Aggarwal, Dean – Blockchain Programs at TalentSprint, said, "Anything which can be transacted digitally will ultimately embrace blockchain. IIIT Hyderabad is running not only a special program in blockchain but it is also running a centre of excellence in the blockchain. This combination is something you cannot get anywhere else in India. Any successful participant after this program would be able to build an independent business application using either Ethereum blockchain or Hyperledger Fabric blockchain framework. Not only can the learner actually participate in all kinds of blockchain-based uses, but they can also participate in building unique distributed ledger technology solutions."
Harsh Patel, Faculty at IIIT Hyderabad, said, " The main aspect for the core skills is to make students understand what are the various use cases that are possibly using blockchain and how it can be applied in the real world. To take some examples, we give around 19 lessons on blockchain and also hands-on experience on smart contracts by virtue of lectures as well as the labs.
How does this course make you an expert in blockchain?

This 6-month long course will help you understand the ins and outs of blockchain technology. Apart from teaching you the fundamentals of blockchain, the course will help those who want to accelerate their career growth with expertise in blockchain. Once the course is completed, learner will be able to
Take the initiative & lead Blockchain projects in their organization.
Build their own Blockchain or Blockchain-based apps.
Use practical skills to develop blockchain-based solutions
Gain a holistic view of how this technology helps in providing solutions through use-cases
Advance their career in the blockchain field in the innumerable opportunities in the field
Sunil Aggarwal, Dean – Blockchain Programs at TalentSprint, added, "You can become a blockchain architect, you can become a blockchain developer, as well as you can actually design new blockchain business models. See, everybody wants to build new kinds of wealth systems, and blockchain is a big opportunity for building those new wealth systems, and that is why we need hundreds and thousands and millions of quality professionals. And I would say that blockchain is going to be a sunrise industry, and it will maintain its growth for at least the next 20 years."
What insights do program alumni offer regarding the program's worth?

Talking about their experiences with Advanced Certification Course in Blockchain and Distributed Ledger Technologies from IIIT Hyderabad, learner Chitrabandhu Ghosh, Vice President – Investment Bank, said, "Currently, there is no other course in India that combines such extensive depth and breadth within its curriculum."
Another participant of the course, Tabitha Lavanya Mamilla, Capability Manager at Tech Mahindra, said, "Speaking about the curriculum design, I must highlight its remarkable ability to make learning accessible to beginners while ensuring expertise by the end of the program."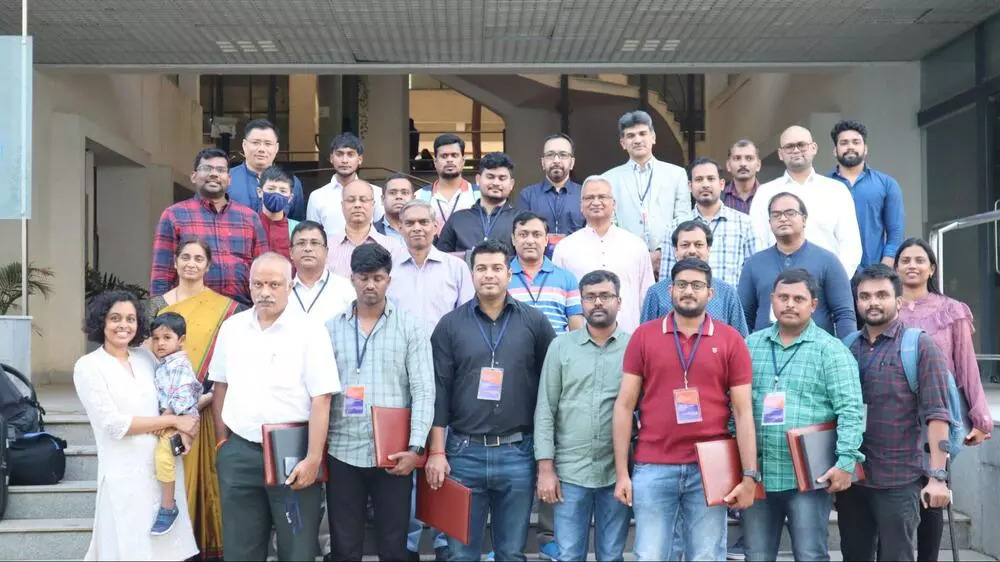 Cohorts of Advanced Certification Course in Blockchain and Distributed Ledger Technologies from IIIT Hyderabad

Phanindra Dasika, Senior Project Manager at Microsoft and a learner at IIIT Hyderabad said, "In the online sessions, we get to interact with the professors. It's not a monologue but a dialogue between the professors and the learners."
Taraka Prabhu, Senior Blockchain Engineer at Tech Mahindra, said, "I would definitely say that this has transformed my career for the next three to four decades."
How is the program delivered?

The IIIT Hyderabad's Advanced Certificate Program in Blockchain and Distributed Ledger Technologies is a 6-months program which provides a comprehensive take on blockchain technology. The course provides a hands-on learning experience about the latest in blockchain technology. The program covers multiple formats of online learning such as 100% Live Interactive Sessions with IIIT Hyderabad faculty on weekends, Hackathons, Projects and Group Assignments. IIIT Hyderabad also provided handholding for Startups & one-to-one mentorship.
Who should enroll in this course?

Professionals with a minimum of 1 year of work experience, readiness for learning basics of coding and a keen interest in venturing into the blockchain sector are most suitable for this course. Entrepreneurs exploring blockchain-based business opportunities will also gain multiple essential inputs from this course. A diverse range of professionals having 1 to 15 years of work experience from various industries such as IT, Manufacturing, Supply Chain, Consulting, Finance, Automobiles, Fintech, Blockchain startups and many more have benefitted from this course.
Why should you opt for the Course on Blockchain from IIIT Hyderabad?

With the technology already on the radar of multiple companies and governments, it is time to give a boost to your career with the Advanced Certification Course in Blockchain and Distributed Ledger Technologies from IIIT Hyderabad. The course not only helps you understand the fundamentals of blockchain but also helps you apply the learning to real-world applications. Wait no more and book your seat today!
To learn more about the course, click here.
1. https://www.gartner.com/guest/purchase/registration?resId=3627117&srcId=1-3478922230
2. https://www.niti.gov.in/sites/default/files/2020-01/Blockchain_The_India_Strategy_Part_I.pdf

Disclaimer: The article has been produced on behalf of TalentSprint by the Times Internet's Spotlight team.